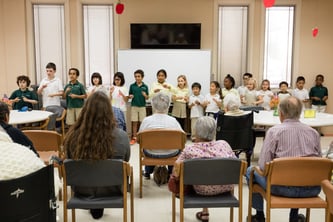 On Tuesday, June 14th, 2016, a group of HudsonWay Immersion School students took time out of the school day to visit senior citizens at Sage Eldercare.
HudsonWay Immersion School is a local preschool and elementary school where students learn academic content in two languages. In addition to English instruction, students spend the majority of the day learning academic content in either Mandarin or Spanish.
17 kindergarten through fifth grade students used their bilingualism by singing to a group of about 30 seniors in English, Mandarin and Spanish.
On the visit, Sage Eldercare Director Deanna Butters said, "we enjoy having intergenerational programs like this. Not only does it provide entertainment for the clients, but it also brings them to life. It's also a wonderful way to introduce these kids to the art of giving."